Description Detail Package Workroom FAQ
Mini humidifier feature:
1.4 in 1 function, air humidifier, ultrasonic aroma diffuser, 7 colors night-light and air purifier.
2.Ultrasonic anion cold fog sweet humidifier. Humidifier atomization process releases large amounts of negative ions, can effectively remove floating in the air of smoke, dust, formaldehyde, bacteria, etc.
3.Can give out the ultra fine and smooth uniform aromatherapy mist, ensure that you can absorb the every hydrated plant essential oil nutrient absorption.
4.Also ensure a good night's sleep for family. 220ml capacity makes it perfect for car, office, home use.
1.10+ Years OEM and ODM Experiences , SGS verified manufacturer.
2.10000+ square meters , 200+ employee , 7*24 hours services .
3.Fast delivery : 3-7 sample days ; 15-30 days order delivery .
4.We have the SGS , ISO9001, ISO14001 Certifications.
5.With independent design, mold, injection molding, SMT, production assembly, strict quality control system. Main market : Japan,Korea, Canada, USA, Russia, Poland, Germany, Spain, etc.
6.Welcome to visit our factory,you will see more USB MINI HUMIDIFIER!!
HOW to use mini humidifier:
1.Twist off the head cover in the anticlockwise direction.
2.Add water to the maximum water level of the water pot, and then tighten the head cover in the clockwise direction
3.Insert the plug of the randomly distributed power card into the power supply of the humidifier, connect the other end of the power cord to a computer's USB interface or any 110-220VDC5V/500mA power adapter,phone chargers and power banks can supply power for the humidifier as well.
4.Wait for 5 minutes till the cotton sliver is totally soaked.
5.Press the switch on the top cover to produce the mist continuously.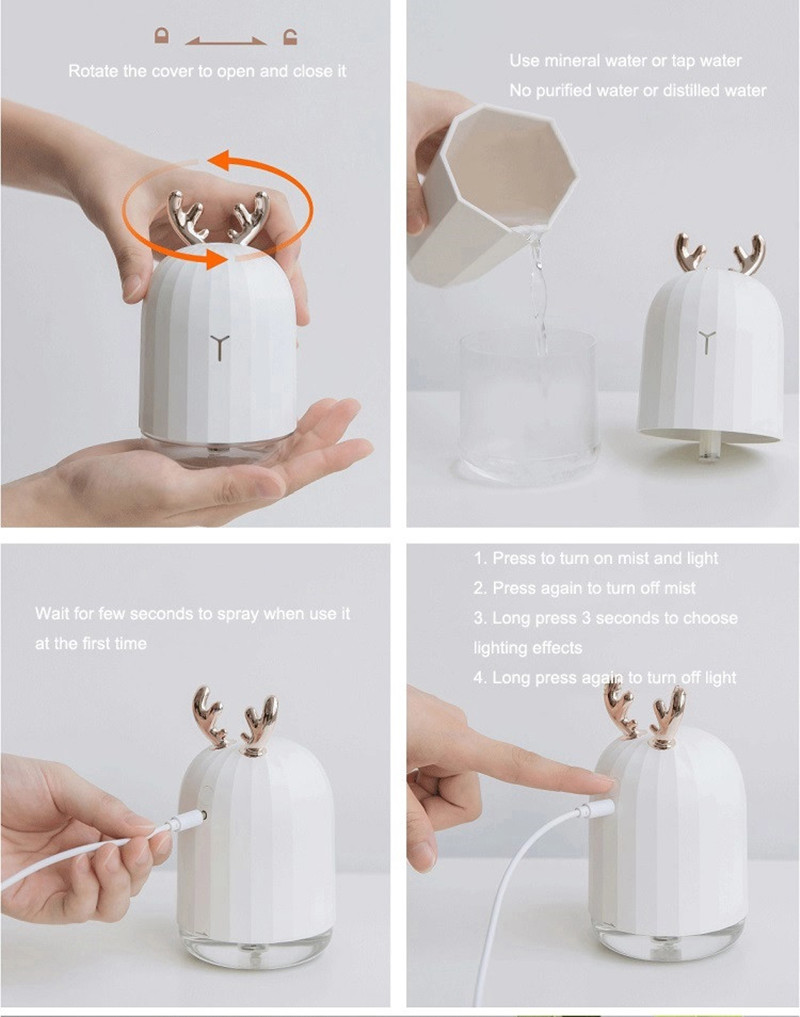 Safety instructions:
1.The mini humidifier is the precision one. Do not dismantle and do not use it in damp area.
2.The working voltage of the mini humidifier is DC5V. PIease make sure the working power is DC power of 5V.
3.Please dry the water in the water tank if not used fora long-time. Hang the absorbent cotton dry and unplug the power cord.
4.Recommend cleaning off the scale deposit in the water tank once a week.
5.Do not touch atomizing chips with hard articles.
6.If there is abnormal sound or the atomizing water is becoming less remarkably, please refill water into water tank after shut down.
Name:Deer Rabbit Mini Humidifer
Mini humidifer model:H318
Material: ABS+PP+PC
Mini humidifiers height:3.3 inch/13cm
Mini humidifiers diameter:3.1 inch/8cm
Mini humidifiers weight(empty):0.35 pounds/151g
Single package size:9.6X9.6X14.6 cm
Single gross weight:0.3 kg
Gift box size: 96*96*146mm
Net weight per unit: 151g
Carton box size: 50*40*30cm
Mini humidifier quantity per carton: 40pcs
Easy to power and carry: DC powered and size 139 * 80 * 80mm makes it easy to carry, whether from home to office or car.
Seven color breathing light: When you turn on the humidifier, the breathing light will turn on automatically. Hold the switch button(3s) for the first time to stop changing colors. Hold the switch button(3s) for the second time to turn off the breathing light.
Ultrasonic Operation and Ultra-silence Design: Humidify your living space to prevent dry, stuffy air and flu/cold germs infecting your loved ones. Prevent dry and chapped skin in dry seasons with no noise.
Safe and Easy to Use:4 hours automatic power-off protection and 1 hours automatic off the lamp. Make sure there is enough water before running.
Popular Design: The cute Rabbit design perfect match your home or office desktop.
Is this mini humidifier durable?
Yes, this product is made with high quality standards.
Is this mini humidifier easy to use?
Yes, it is very easy to use.
How do I use this humidifier exactly?
Unscrew the top part, fill it with water, plug it into a USB port and press the button once.
Does this humidifier has an internal battery?
No, this humidifier needs to be plugged in in a USB socket from We believe that it is more convenient to have it powered through a dedicated power supply. This way you don't need to worry about another device that needs to be charged frequently.
What are the dimensions of this small humidifier?
The height is 7.2 inch or 18.4 cm and the width is 3.2 inch or 8.1cm diameter.
What is the weight of this humidifier when empty?
The weight when empty is 0.49 pounds or 223g.
Does this humidifier produces cool or warm mist?
This humidifier produces cool mist only.
Would this desk humidifier work in a small room or office?
This model is perfect for smaller rooms or offices.
Would this small humidifier work in a big room?
In a big room this humidifier would work but not be as effective as in a smaller room. For a big room we recommend placing at least 2 of them.
How do you turn the light on and off?
Press the button for one second to turn the light on. If you press it again for one second the light turns off. If you press it again for one second the light goes into a pulse mode. Press it again for one second to turn the light off again.
Can I turn the light completely off when plugged in?
Yes, you can turn the light completely off, exept for the little red light on the back.
Will this desk humidifier wet your desk?
No, this himidifier produces very fine mist that's perfectly soluble in the air. It never wets the surface it's placed on.
Does this humidifier makes a noice while working?
No, this model is ultra quiet and almost impossible to hear.
Is this humidifier easy to clean?
Yes, it's very easy to clean. The opening is 3.2 inch or 8.1 cm, and you can clean it with a towel.
Can I use essential oil in this mini humidifier?
No, this model is not designed to use as a essential oil diffuser.
Does the humidifier automatically shut-off the power if it runs out of water?
Yes, it will auto shut off when it is waterless.
Can I use rainwater to fill it?
No, we don't recommend that you use rain water. You can use regular tap water, but in order to keep the humidifier working in the best condition possible, it is best to use distilled water.