Description Detail Package Workroom FAQ
Bluetooth Clock Aroma Diffusers Features Details:
1.Four timed spray modes, press the spray button to switch, ON/1H/3H/5H free choice
2.Three light modes, press the light button to switch, colorful gradient / fixed color mode / turn off the light free choice
3.a. Clock synchronization, with alarm function, press the spray button and light button to enter the adjustment state of the clock and alarm respectively,
press the plus or minus button to adjust the setting clock and alarm clock;
b.After entering the clock setting, press the light button to reset the clock.
c.After entering the alarm setting, press the spray button to cancel the alarm function.
4.With Bluetooth function, you can press and hold the PLAY button to turn on the Bluetooth function.
When the connection is disconnected and there is a tone when the Bluetooth is turned off,
press the plus or minus button to select the up and down songs. Press and hold the button to increase or decrease the volume.
There is a tone when the volume is adjusted to the maximum or minimum.
5.built-in automatic detection of water-free protection device to prevent waterless burning.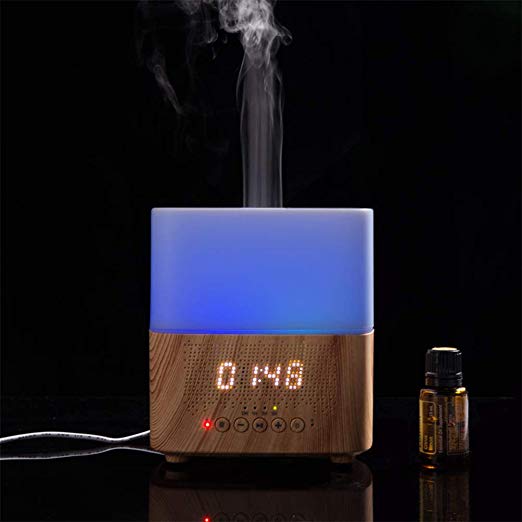 TO SET CLOCK :
-Hold "Mist"until 12/24 appear on screen.Press "+" or "-" to select between 12h/24h clock.(Note: press "Light" in time setting mode will return to the initial state "00:00".
TO SET ALARM :
-Hold "Light" for 2 seconds to enter into alarm setting.(Note: when alarm is ringing, press any button to return off the alarm.)
TO PLAY MUSIC :
-Hold "play" for 2 seconds to switch on/off the bluetooth function.
-Search for available decives and select"Clock diffuser".
-Place bluetooth TM devices within 3 feet of the speaker.
TO SET UP DIFFUSER :
-Remove lid and set aside.
-Place on a flat surface;
-Fill diffuser with water up to carved max line.
-Add 3-4 drops of essential oil.Add more if desired.
-Plug unti to power putlet.Press "Mist" button to start.
NOTE:
-Please unplug the power cord after every usage.
-Please do not use the diffuser in the wet environment and keep the power cord dry.
-Please do not use too many appliances at the same time in one socket.
-Please use 100% pure essential oils with no corrosivity.

SPECIFICATIONS:
Material: ABS+PP (anti-corrosion)
Water tank: 300ml
Ultrasonic frequency: 2.4MHz
Mist output: 30ml/hour
Timing: ON, 1H, 3H, 5H
Hour setting: 12/24 hour setting
Noise: <35dB(A)
Voltage input: AC 100-240V 50/60Hz
Voltage output: DC24V 650mA
Power supply: DC-power Adapter
Suggest room size: 10-20m2
Product Dimension:132*103*146mm
Prodcut Weight:450g :
2019 05-30 site:152.google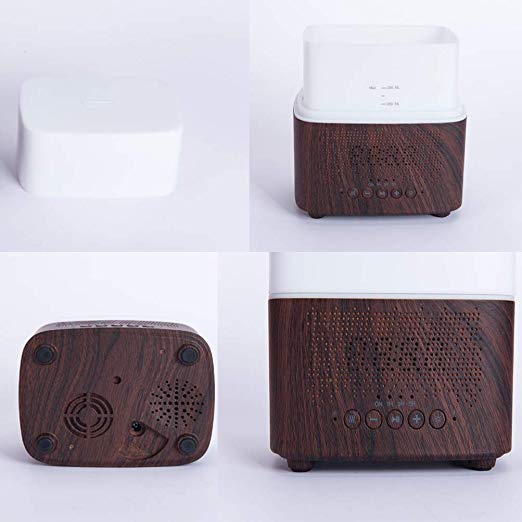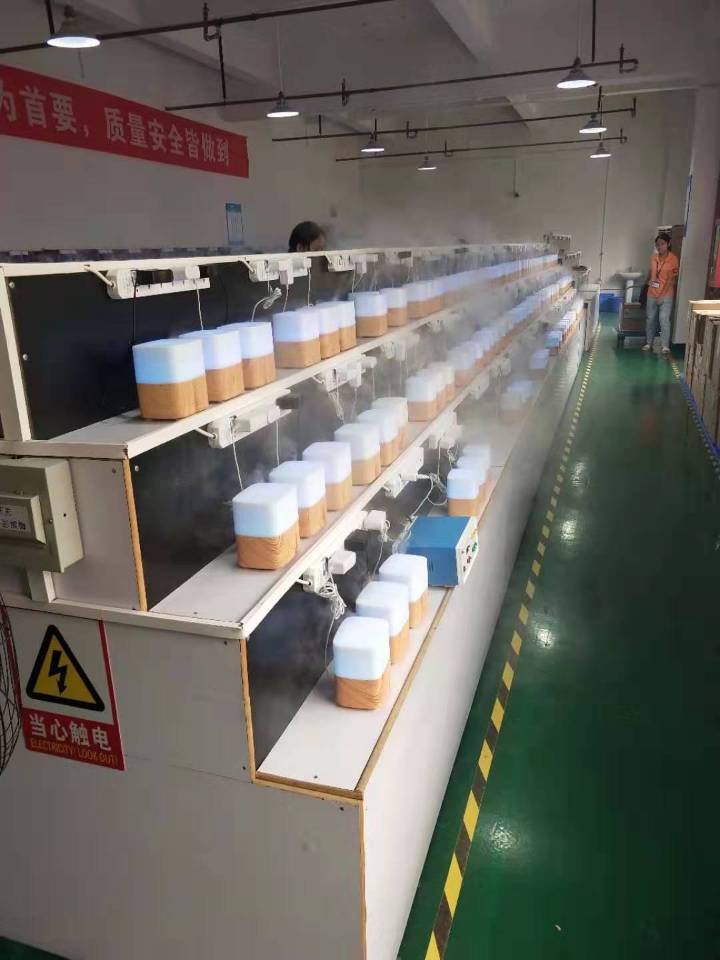 Q1. Are you a manufacturer or a trading company?
We are a manufacturer, have own production workshop, providing OEM & ODM service of clock bluetooth aroma diffusers. The factory is in Liaobu Town, Dongguan.
Q2. When was your company established?
The company was founded in 2006
Q3. What's your main markets?
The United States, Europe, Japan, Russia and Thailand, etc.
Q4. What is the delivery date for a clock aroma diffuser?
Usually about 4-5 days for express
Q5. What are your standards for aromatherapy machines?
We strictly label production according to international standards: Incoming inspection, process inspection, packaging inspection. Product authentication: CE, Rohs, FCC (click to query authentication information)
Q6. How do you control the quality of aroma diffusers?
Strict testing standards, 100% process detection. The factory has passed ISO 9001:2015 certification (click to check the authentication information)
Q7. What's MOQ fro aroma diffusers?
The minimum order quantity is 100, and the sample order is determined according to the stock.
Q8. Can you give us a favorable discount ?
Of course, a favorable discount will be offered by checking the cost if the quantity is sizable.
Q9. How do you ship the clock aroma aroma humidfi?
We usually ship by DHL, UPS, FEDEX,TNT. Bulk goods are usually shipped by sea
Q10. if the customer wants to print LOGO on the product, how much is the charge?
If LOGO is simple, we only charge the fee, about 1 yuan, the minimum fee of 500 yuan.
If LOGO complex, we offer consultation and cooperation partners.
Q11. if the customer wants to pay for the mold himself, can you guarantee that the product is not sold to the third party?
If the customer pays open mold, we must sign a confidentiality agreement and sale rules, we will strictly comply with the terms of the contract.
Q12. how long will it take to develop an aromatherapy machine?
From design -- structural design - proofing - Test - modify - batch production, generally require 3 months.
Q13. What's the difference between an aromatherapy machine and a humidifier?
The essential difference is that water tank material is different, and humidifier can not add essential oils and perfume, but aromatherapy machine can.
Q14. What are the exterior materials of aromatherapy machines?
Aromatherapy machine appearance material generally has 3 kinds: ABS, glass and ceramics (for example, H5018 is the ceramic).
Q15.How long was the warranty period of the aromatherapy machine?
Warranty period generally one year (calculated from the date of the factory will generally be extended for 2 months)
Q16. Can we send inspectors to the factory?
Yes of cause, but the cost is up to you.
Q17. Your company accept third party testing machines?
Accepted, but the cost is up to you.
If you have any question about alarm aroma diffusers ,please call us:+86-18028962818