Description Detail Package Workroom FAQ

Why would you need this aroma diffuser on your desk?
In winter, when heating is turned on, your home humidity level can drop as low as 10 percent. By comparison, the Sahara Desert has an average relative humidity of 25 percent. When you consider that people are most comfortable when the relative humidity is 40-50 percent, you can see how dry indoor air can take a toll on you and your family.
Our small humidifier has a very efficient ultrasonic nozzle, which creates the perfect cool mist that's for 99.9% soluble in the air. This way the mist doesn't come down. On top of that it's also a leak-free design so you'll never wet your desk in case you'll knock it over. Our humidifier is also completely silent, and designed with a nice ambient light.

Hidly
aroma diffusers
! Portable for yoga, gym, office, baby room or bedroom. Perfect gift for family and friends who love aromatherapy or can benefit from aromatherapy healing!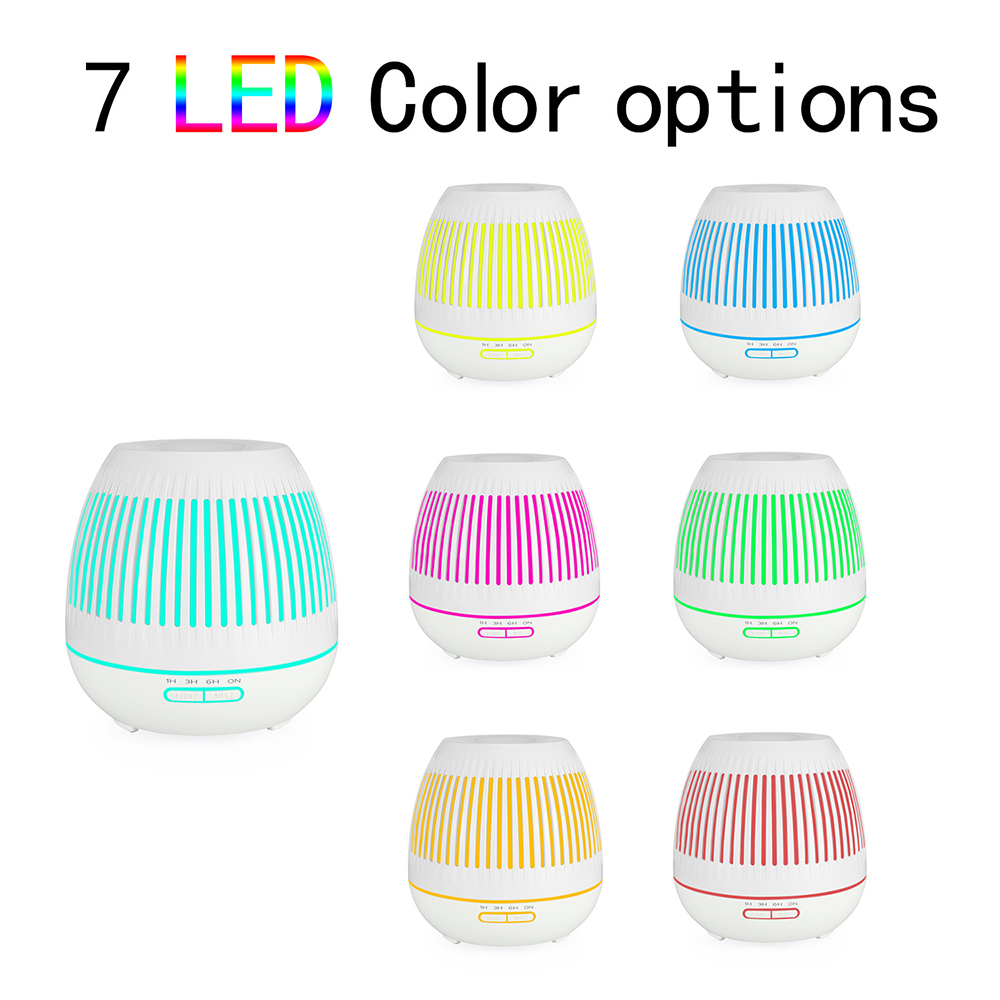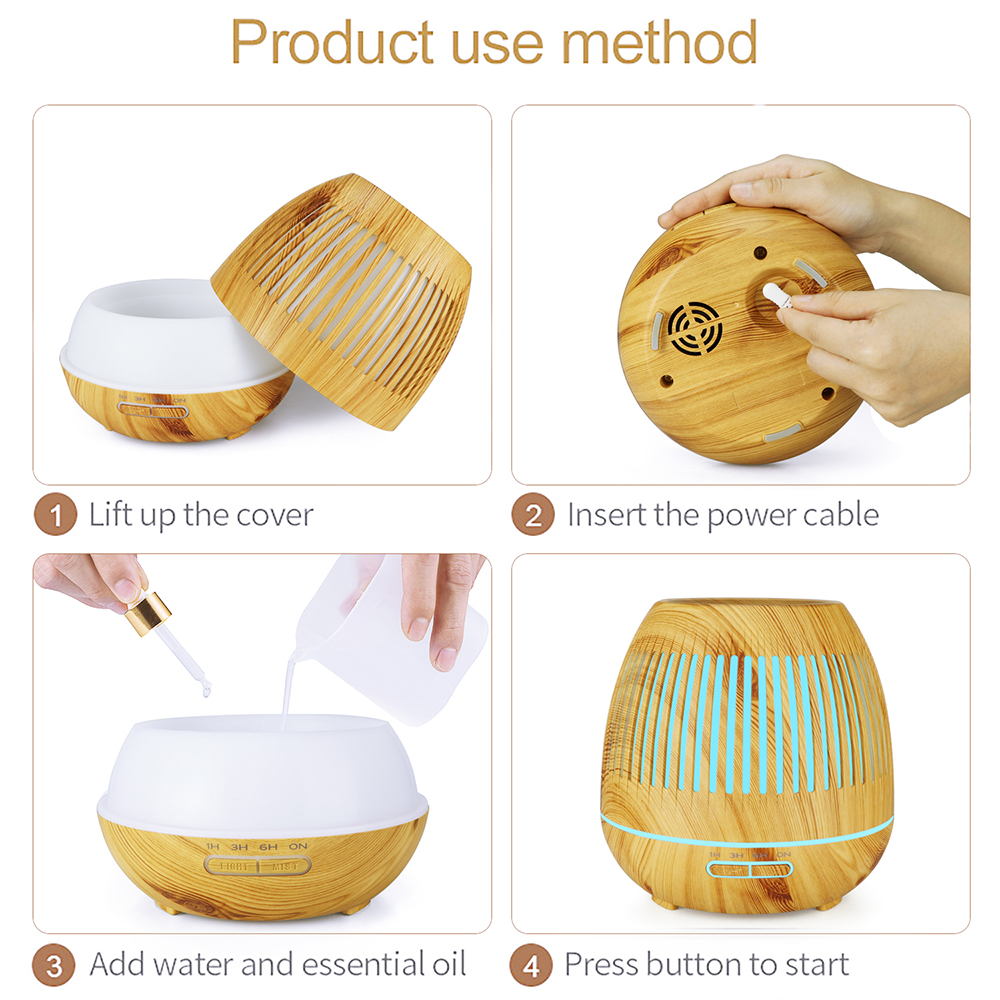 Name:Aroma diffuser
Mini humidier model:H130
Material: ABS+PP (anti-corrosion)
Water tank: 400ml
Noise: <35dB(A)
Voltage input: DC24V
Rated power: 12W
Voltage output: 500mA
Humidifying capacity: 21-30 ml/h
Aroma diffuser height:6.6 inch / 16.8cm
Aroma diffuser width: 6.6 inch / 16.7 cm
Aroma diffuser weight (empty): 1.07 pounds / 485 g
Carton size(24pcs):50*38*31CM
Gross weight(24pcs):10KG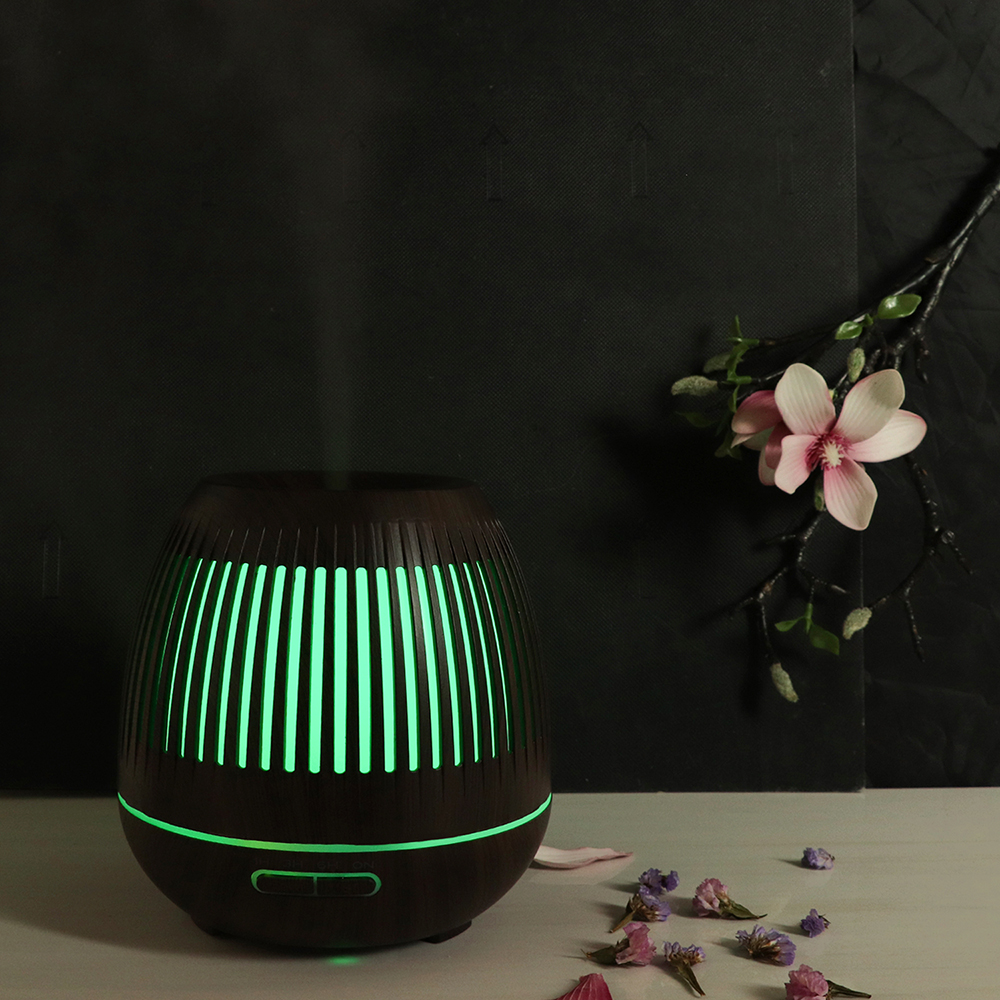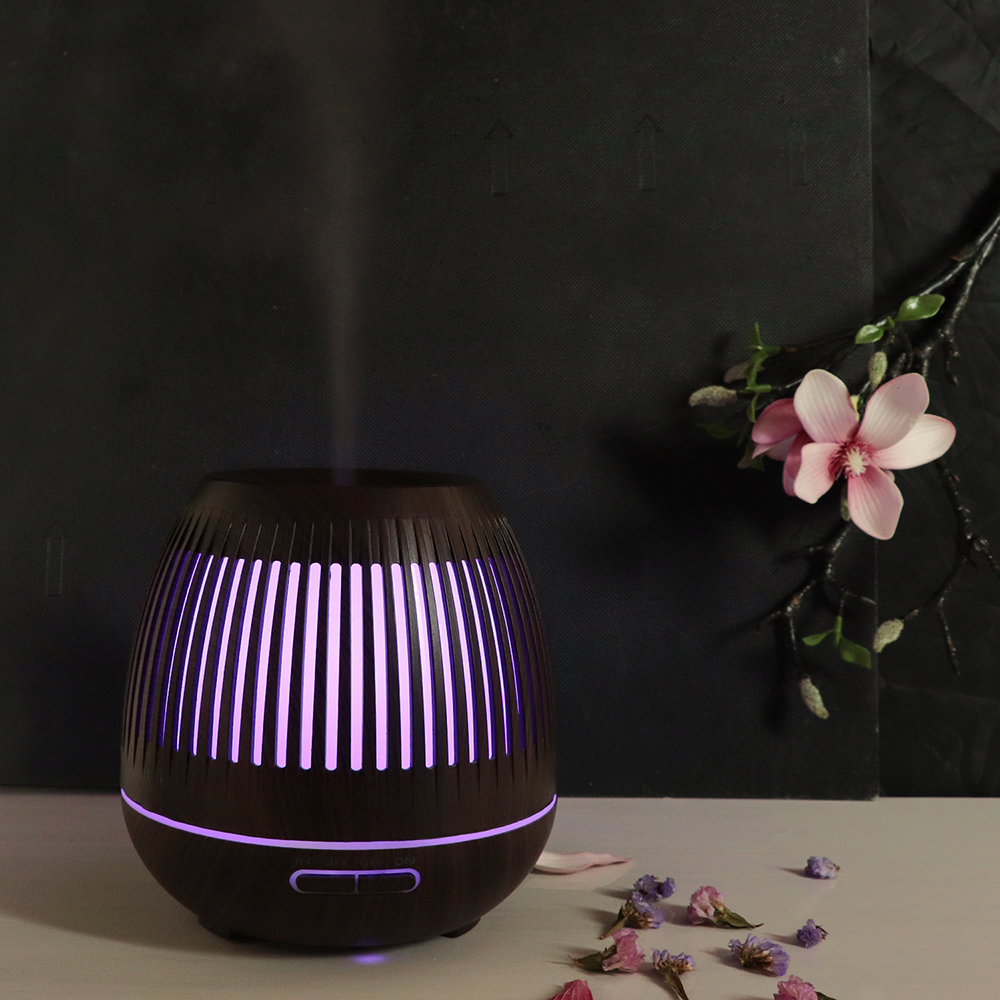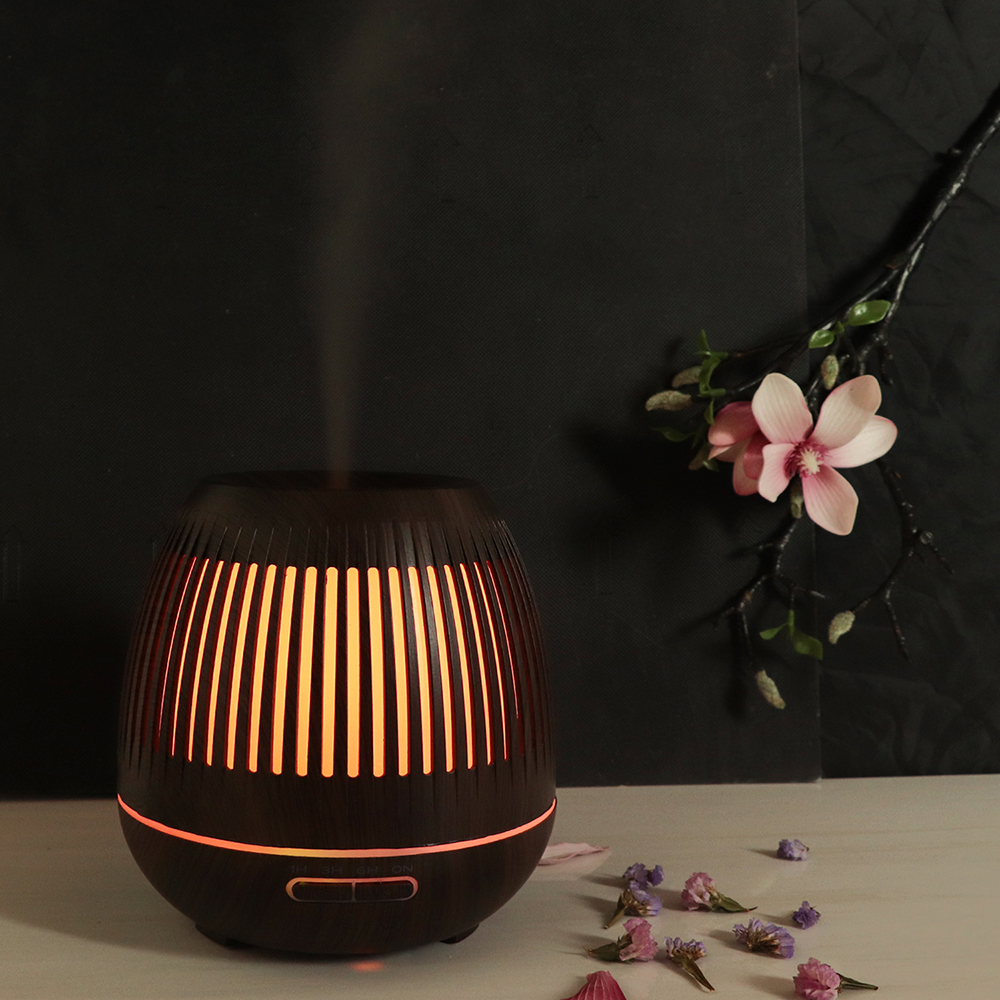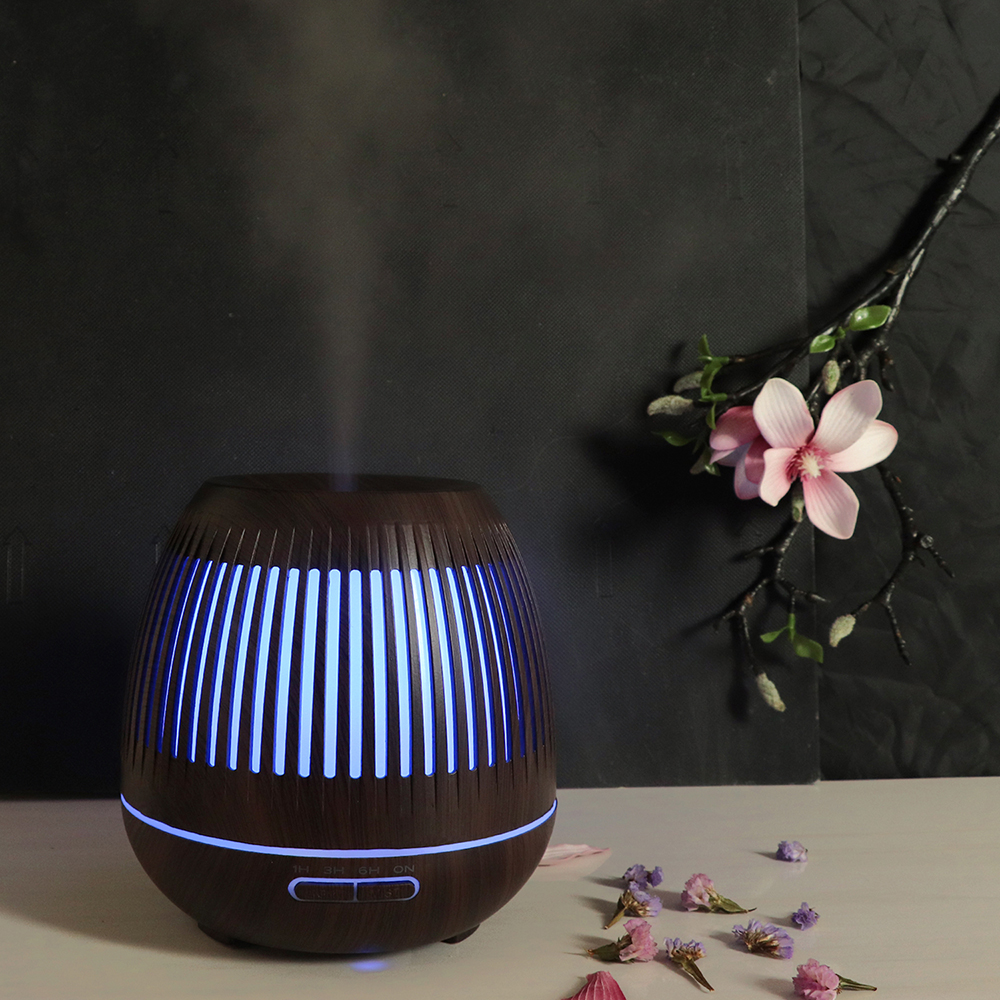 Is this mini humidifier durable?
Yes, this product is made with high quality standards.
Is this mini humidifier easy to use?
Yes, it is very easy to use.
How do I use this humidifier exactly?
Unscrew the top part, fill it with water, plug it into a USB port and press the button once.
Does this humidifier has an internal battery?
No, this humidifier needs to be plugged in in a USB socket from We believe that it is more convenient to have it powered through a dedicated power supply. This way you don't need to worry about another device that needs to be charged frequently.
What are the dimensions of this small humidifier?
The height is 7.2 inch or 18.4 cm and the width is 3.2 inch or 8.1cm diameter.
What is the weight of this humidifier when empty?
The weight when empty is 0.49 pounds or 223g.
Does this humidifier produces cool or warm mist?
This humidifier produces cool mist only.
Would this desk humidifier work in a small room or office?
This model is perfect for smaller rooms or offices.
Would this small humidifier work in a big room?
In a big room this humidifier would work but not be as effective as in a smaller room. For a big room we recommend placing at least 2 of them.
How do you turn the light on and off?
Press the button for one second to turn the light on. If you press it again for one second the light turns off. If you press it again for one second the light goes into a pulse mode. Press it again for one second to turn the light off again.
Can I turn the light completely off when plugged in?
Yes, you can turn the light completely off, exept for the little red light on the back.
Will this desk humidifier wet your desk?
No, this himidifier produces very fine mist that's perfectly soluble in the air. It never wets the surface it's placed on.
Does this humidifier makes a noice while working?
No, this model is ultra quiet and almost impossible to hear.
Is this humidifier easy to clean?
Yes, it's very easy to clean. The opening is 3.2 inch or 8.1 cm, and you can clean it with a towel.
Can I use essential oil in this mini humidifier?
No, this model is not designed to use as a essential oil diffuser.
Does the humidifier automatically shut-off the power if it runs out of water?
Yes, it will auto shut off when it is waterless.
Can I use rainwater to fill it?
No, we don't recommend that you use rain water. You can use regular tap water, but in order to keep the humidifier working in the best condition possible, it is best to use distilled water.